Last week, we watched the Communications Director of the White House, The Mooch, get fired (oops I mean resigned) after just TEN DAYS on the job. Hell, two of those days were the weekend.
Did he even get a badge? Did his direct deposit even go through? Did he even get a chance to finish the New Employee Handbook?
I'm not sure what's worse: getting fired the week after your divorce becomes publicized or getting fired the week after you have a baby. Yep, both of these happened to Anthony Scaramucci aka The Mooch all in those 10 days. But, it got me thinking - as comical as the White House employee retention rate is, what's not funny is leaving a job (quitting, getting laid-off, or being released) and not being prepared. 
I remember being laid off from a Social Media Manager position at an advertising agency my final semester of college. I had no money, no connections from the job, and I was back at square one like most recent college graduates. It took me eight months to find work. I don't wish that process on anyone.
With that being said, here's this week's insider trading on preparing for unexpected job transitions.
Never Stop Building Relationships
One of the best ways to prepare for any unexpected job or financial loss is making sure you have a strong network of people around you that can help you move forward. We've all heard of The Six Degrees of Separation, but honestly how often do we put it to use? Hell, how ofter do we put the concept of one or two degrees of separation to use. When was the last time you analyzed your circle, your mentors, your job references, or people that you've met at that Day Party that one time? After revisiting, ask yourself "Could this network help me during tough times?" 
If the answer is "not sure" "maybe" or even "hell nah", here's a cool way to expand your network. Some people call it the "CALL ONE, GET THREE" method. Reach out to the strongest members of your current circle, and ask them to connect you to 3 people. Remember, successful people usually hang around other successful people. Now, whether you take them out for coffee or have a FaceTime conversation, the goal is to build relationships with people who could eventually provide a job or connect you with a job opportunity. This "CALL ONE, GET THREE" method can also be used for people looking for potential clients, donors, or even looking for a new bae.
RELATED: Subscribe to our newsletter for the latest news and tips on becoming the best you.
Rainy Day Funds
According to a survey  released by HomeServe USA, nearly 19% have nothing set aside to cover an unexpected emergency. While 31% have money set aside, they don't have at least $500 to cover an unexpected emergency expense. Are you apart of that 31%? What about the 19%? Many financial advisors will tell you your emergency fund should cover one-three months expenses. But you're probably reading this like, "Kenny I hear you, but how do I save that?"
Glad you ask. I can tell you to save 10% of your paycheck every two weeks, but you've probably heard of that. So let's start small and create less stress. There's an amazing app I recently added to my iPhone called Acorns. This app is linked to your debit cards and rounds up the change from your spending. It not only helps you save, but it also invests it. So, when you pay $3.40 with your debit card for that Starbucks frappuccino, Acorns rounds up, takes the leftover $0.60, and adds it to your investment portfolio. You can also schedule payments to invest as well. Scheduling $5 each week, plus saving loose change would add up quickly. Oh yeah, if you download it now, you receive $5 for free!
RELATED: Looking to start investing? Well start your portfolio with FREE stock from Robinhood.
Learn A Skill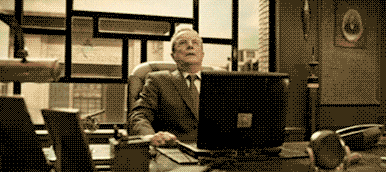 If you follow me, you know I like to keep my hands in a few pots. Not because I like to be busy, but because I like to not be so dependent on one source of income. Teaching myself graphic design in college was one of the best skills I could've learned. I've been able to launch a successful design firm and work with some amazing people and organizations. The best part about having multiple skills - graphic design, speaking on panels, writing, and even investing - is that I'm never in a panic if a 9 to 5 job doesn't work out. 
With that, I encourage you to learn a new skill that you can either use to create another source of income or improve your chances of landing a new job.
Example: Learning a new language for free with Duolingo not only allows you to add being bilingual to your resume, but it also allows you to make money on the side doing translations for small businesses and organizations.
Last Two Cents from Thought Leader and Motivational Speaker, Damien Thaddeus:
Please reload