Hey everyone. First, I'd like to say thank you all for the support, shares, likes, and feedback on the introductory blog last week. Y'all are the real MVPs. However, I found out a few of my amazing social media followers didn't know what the term "Insider Trading" meant.  So, here's the dictionary definition:
Insider trading - the illegal practice of trading on the stock exchange to one's own advantage through having access to confidential information.
My blog, Insider Trading – the legal practice of improving our weeks, years, or future through having access to confidential information.
Now that we're all on the same page, here's this week's Insider Trading:
Get More Bang for Your Buck 
So I was doing research on my bank's website a couple weeks ago, trying to see how to maximize my Personal Savings account. In doing so, I saw that my bank's savings account program only offered an APY (Annual Percent Yield) of 0.01%. This means, if I save $1,000 in one year, at the end of the year my bank will give me ten cents. Yes, I've saved $1,000, but in 10 years, all I'll have to show for it is $1,001.00. At that moment, I realized I needed to find a better savings program. Two weeks later, my friend and personal trainer, Jozmen Robinson put a link to CIT Bank in our group message. This online bank has a savings program that gives a 1.30% APY. So, if I save $1,000, at the end of the year this bank will give me $13. See the difference? Anyway, I've opened a savings account with CIT Bank to build my savings for a down payment on a home.
Consistency Is Key
"Success isn't always about greatness. It's about consistency. Consistent hard work leads to success. Greatness will come." – The Rock 
Many people feel that they have to be perfect the first time they do something – dating, investing, cooking, or writing a blog. This tends to cause stress and a lack of confidence when it doesn't turn out the way you want it. We've all heard the saying "Rome wasn't built in a day," and neither were you or your skills.
Today, I encourage you to take off the perfection hat, and just do it – as much as possible. When I first began doing graphic design in MTSU's library, I was pitiful. However, if I would've given up because I wasn't producing A+ work on Day 1 or Year 1, I wouldn't be able to hyper link three(i) Creative Communications five years later and work with some of the biggest names in politics and social justice. Produce, produce, produce, and appreciate the journey towards greatness.
Maximize Your Accomplishments
Back in 2015, my friend and financial guru, Al Pickett encouraged me to read Grant Cardone's The 10X Rule. If you have time, I encourage you to check it out. The 10X rule is based on the idea that you should figure out goals you want to achieve, and multiply the effort and time you think it'll take to do them by 10. Example: I need to make $1,000 this month so I can hopefully put it in my new savings account at CIT Bank. According to the 10X Rule, you should set your goal at $10,000.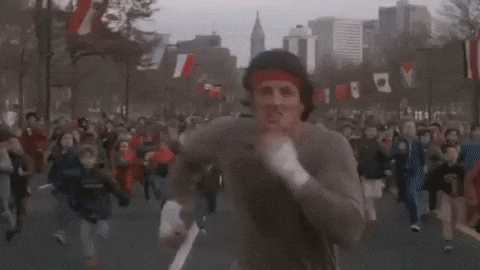 Now, will you always accomplish that goal? No. However, we have a tendency to underestimate what we can accomplish, and therefore set lower goals and not reach our full potential. When you apply the 10x rule and mindset to your thinking, and apply it to how you act, you can do more than you could've  imagine in the shortest possible time.
So today, whatever goal you have set for the week (running 1 mile or applying for 5 jobs) – apply the 10x rule, and let me know if it helps you accomplish more.
In conclusion, I want to leave a message from Thought Leader and Motivational Speaker, Damien Thaddeus:
Please reload